It's the Monday after Dayton Maker Faire, and I'm reading texts from my Boneyard Buildoff teammates – "My body hates me", "Feel like we just fought a war…". With the heat, this year's Faire was brutal, but at the same time, awesome.
First and foremost, a huge thanks goes out to Josh and Emily Cory, the entire team at Carillon Park, and everyone else who had a hand in making the event happen. Every one of them has a thankless job, but without them, the event wouldn't happen.

As in years' past, Chas, Michael and I manned a Boneyard Buildoff team. It's a Junkyard Wars-style competition over two days to build something which achieves a common objective. This year, the goal was to build a man-powered vehicle capable of hauling recyclables and carrying signage to spread the good word about recycling, while looking good doing it. The event was sponsored by Dayton Regional Green, who were nice enough to help judge the looks competition, as well as donate a prize to the winner. The junk was graciously donated by Sandy and Mendelson's, as well as Justin and K&G Bikes.
This year, there were four teams -Team Little Fox and BONDS Robotics, which were both at last year's event, as well as a team of University of Dayton engineering students. Our team, the Constant Variables, and defending champions, rounded out the field.
The competition would be based on three challenges.
Go fast – a timed lap around Carillon's infield, which required a signage change (provided by Dayton Regional Green)
Look good – four judges would look closely at the construction, real-world usability and beauty of each entry
Haul cargo – the heaviest load would determine the winner of this challenge
All teams came up with different solutions to the problem. BONDS built a bike attached to the rear of a shopping cart. Little Fox built a large trailer attached to the back of a bike. UD built a rickshaw, and we built a trike with a dumpable cargo area on the front.
Each challenge would award a max of four points, and a min of one point to each team. Our strategy was to win two challenges, and score well enough in the third to take the overall win. We knew we could outpace everyone and look good, but with a smaller vehicle, cargo capacity would be limited.
Our build started with a bicycle frame that we promptly hacked in half, retaining the rear. We chose this bike because it was a single speed and had a coaster brake, meaning no cables to worry about. We also like the curved lines of the retro Huffy's frame. As a bonus, Huffy is right here in Dayton! We welded scrap metal and remnants of the front half together to extend the frame far enough out to support a cargo area. At the front, we welded on the original head tube which would act as a pivot for the entire front of the vehicle, allowing it to steer.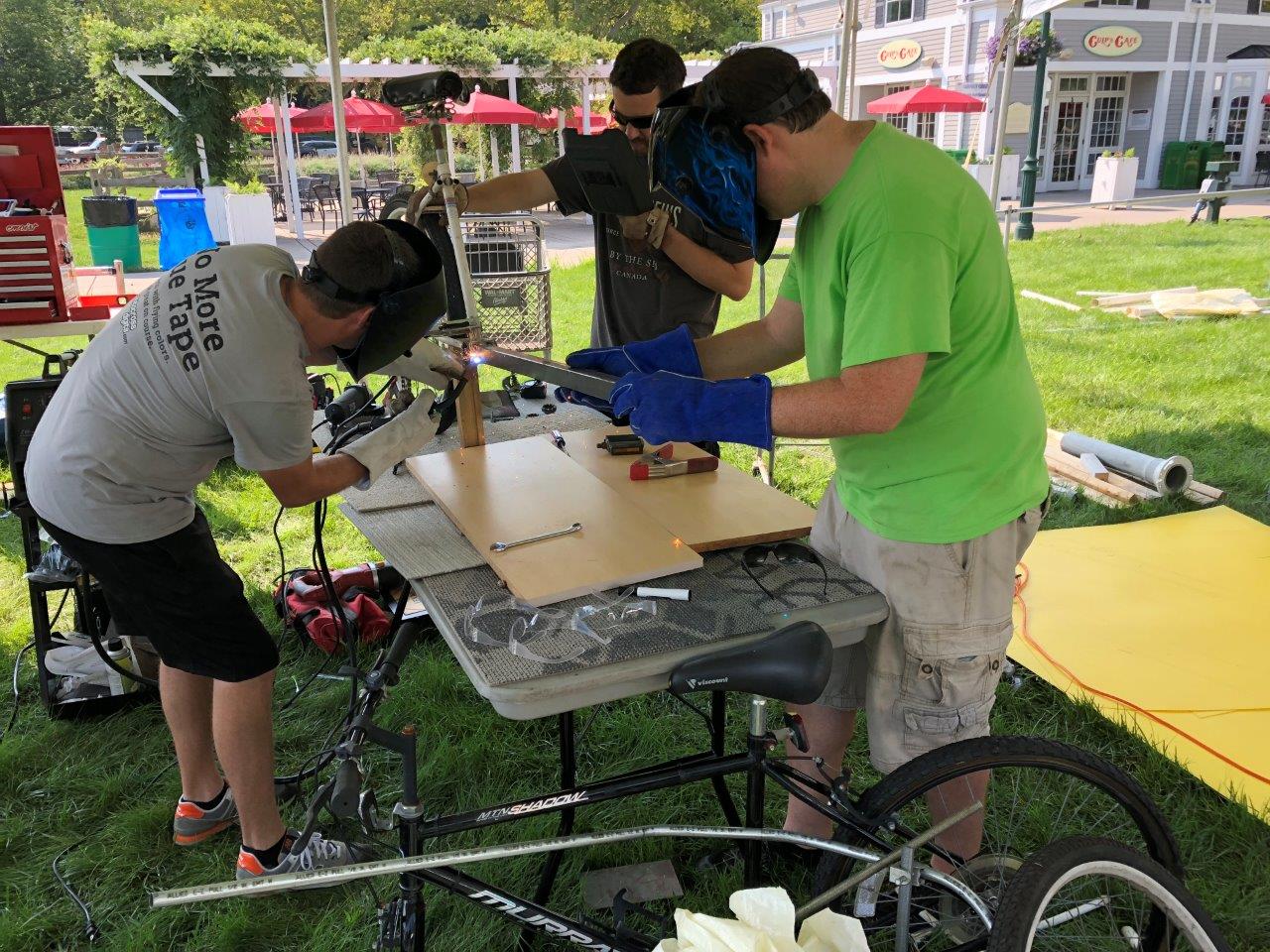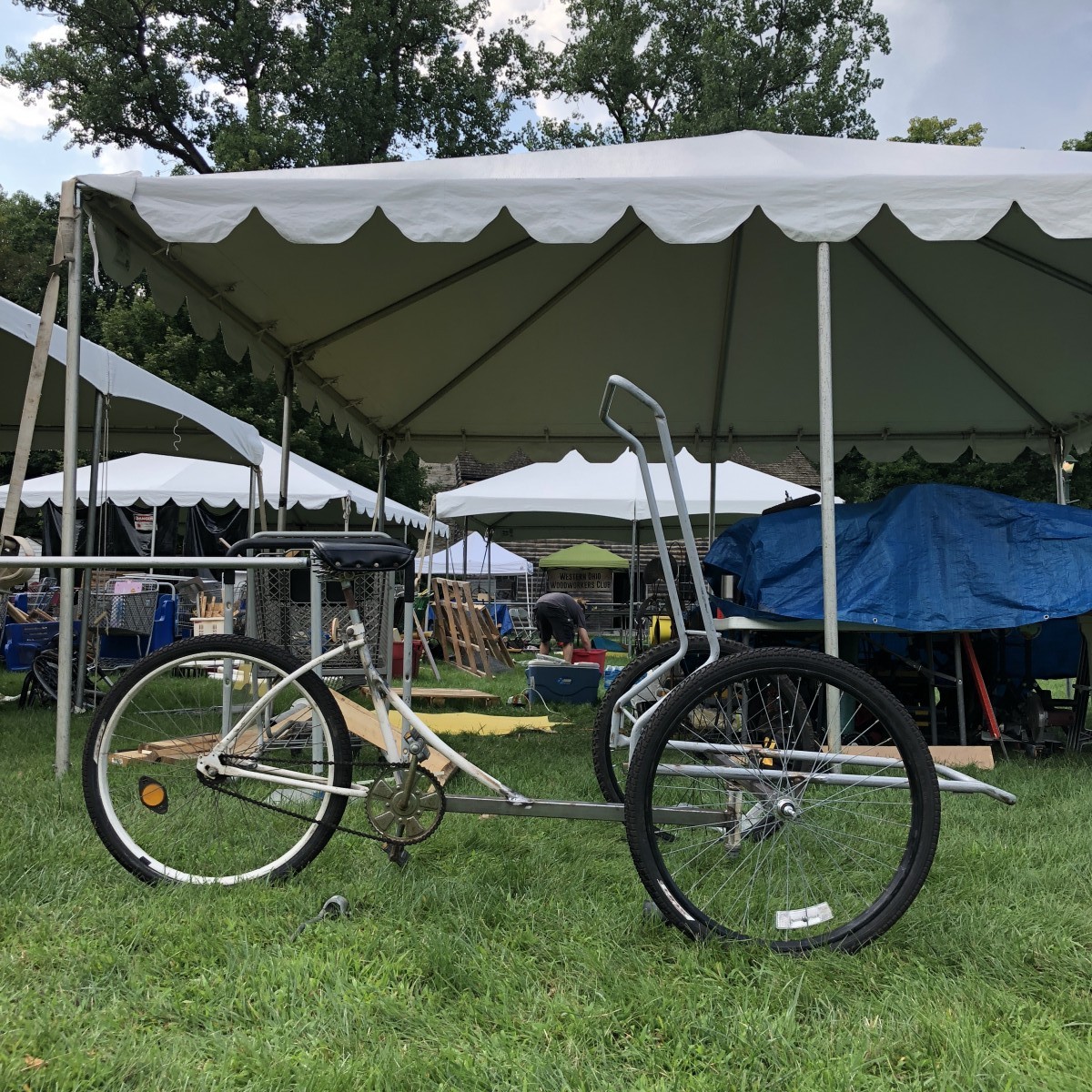 On the front, a crossbar was added, and the frame of a shopping cart doubled as a handlebar and base on which to build a large cargo area. Notice the pivots on the bottom of the cart. These allowed the cargo area to be tilted forward to empty contents. After a successful test ride, things were really starting to come together, and this is where we ended day one.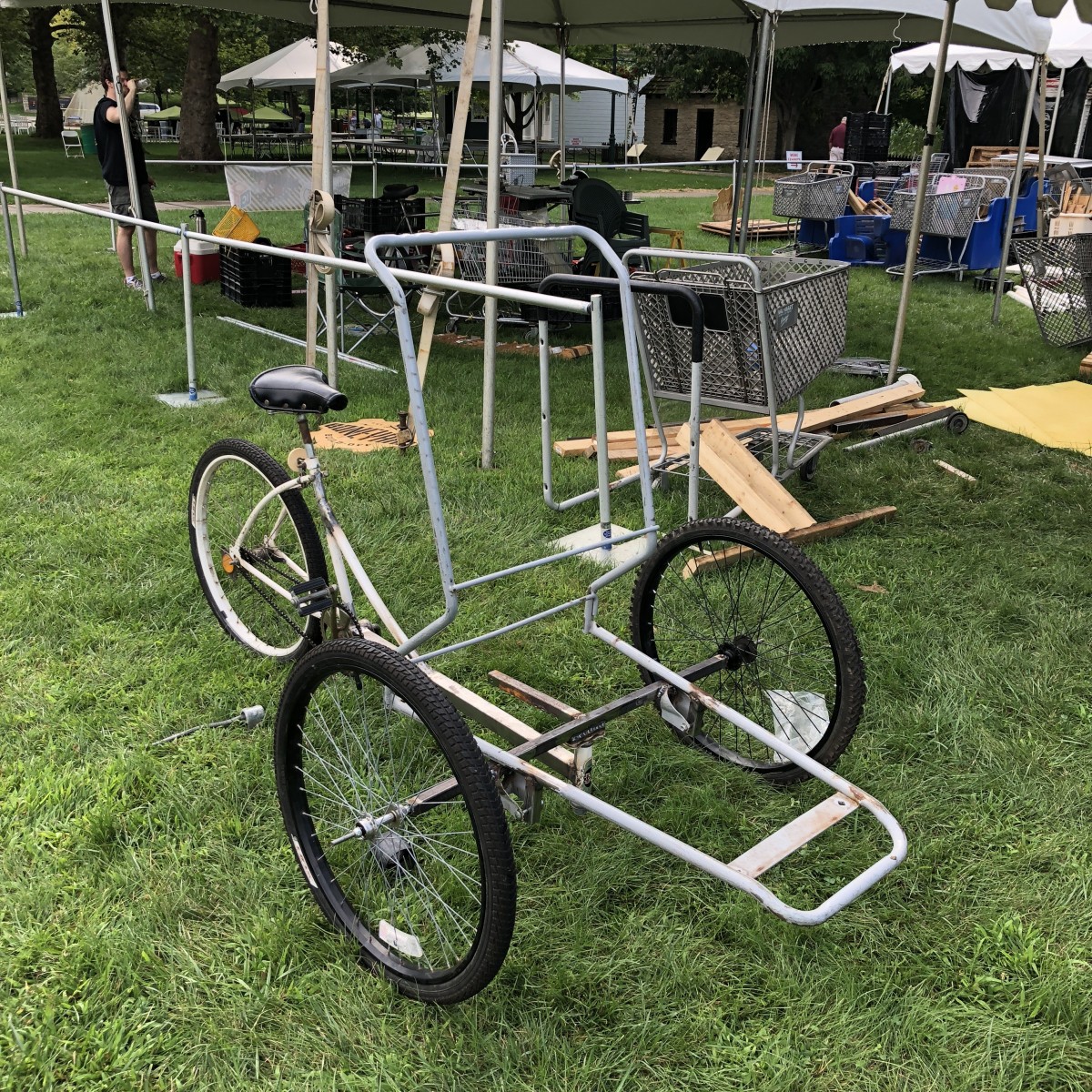 With the core mechanics complete, day two started with Chas adding a coat of paint on the frame, while Michael and I worked on the cargo area. A base made from scrap MDF was bolted to the shopping cart frame and 2×4 uprights were screwed down. The sides were laminated with thin yellow plastic that was sourced from Mendelson's. The front and rear were caged, allowing airflow through to the rider. The cargo area was light, strong and balanced.
Some care was taken to increase curb appeal. In addition to paint, a "ReUse" sign from Mendelson's was added to the grill. "Trash Tike" (not Trike :P) decals were added to the sides and frame to reinstantiate the HUFFY name. Wheels were dressed up with a combination of yard decorations from the junk pile and laser engraved plates.
At competition time, our vehicle took first place in the speed competition (4 points), second in the looks competition (3 points), and second in the cargo weight competition (3 points), for a total of 10 points. We barely beat out Little Fox, who took last in the speed competition (1 point), and first in the looks and cargo weight competition (4+4 points), for a total of 9 points. Our consistency paid off with a win for the third consecutive year in a row! As a result, we took the winner's check and an awesome rotating trophy made by the folks over at Real Art.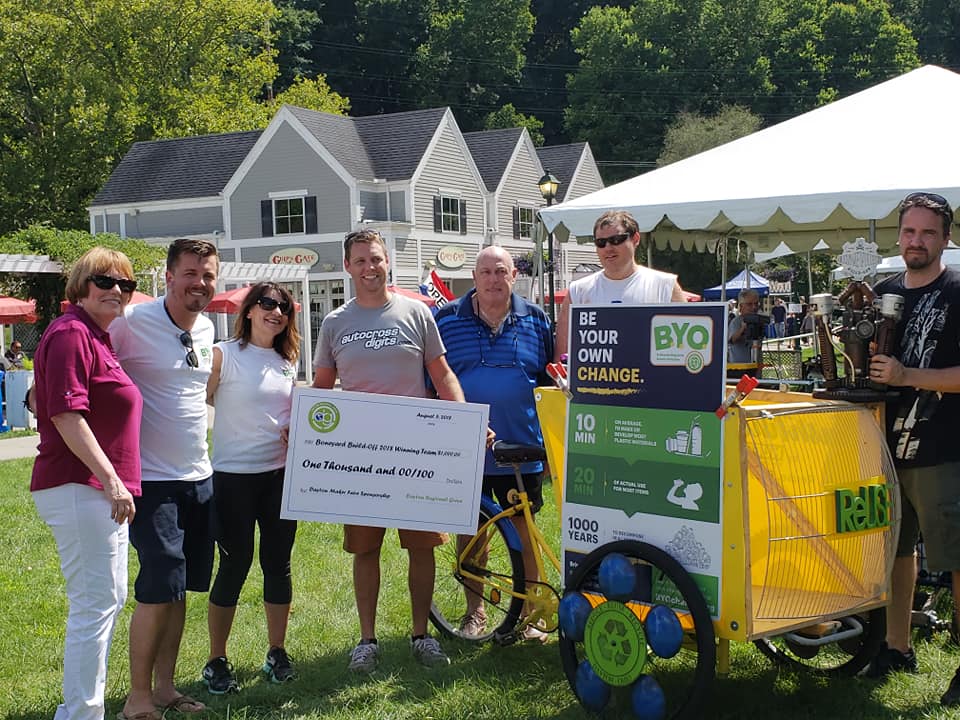 Team Little Fox Engraving's entry…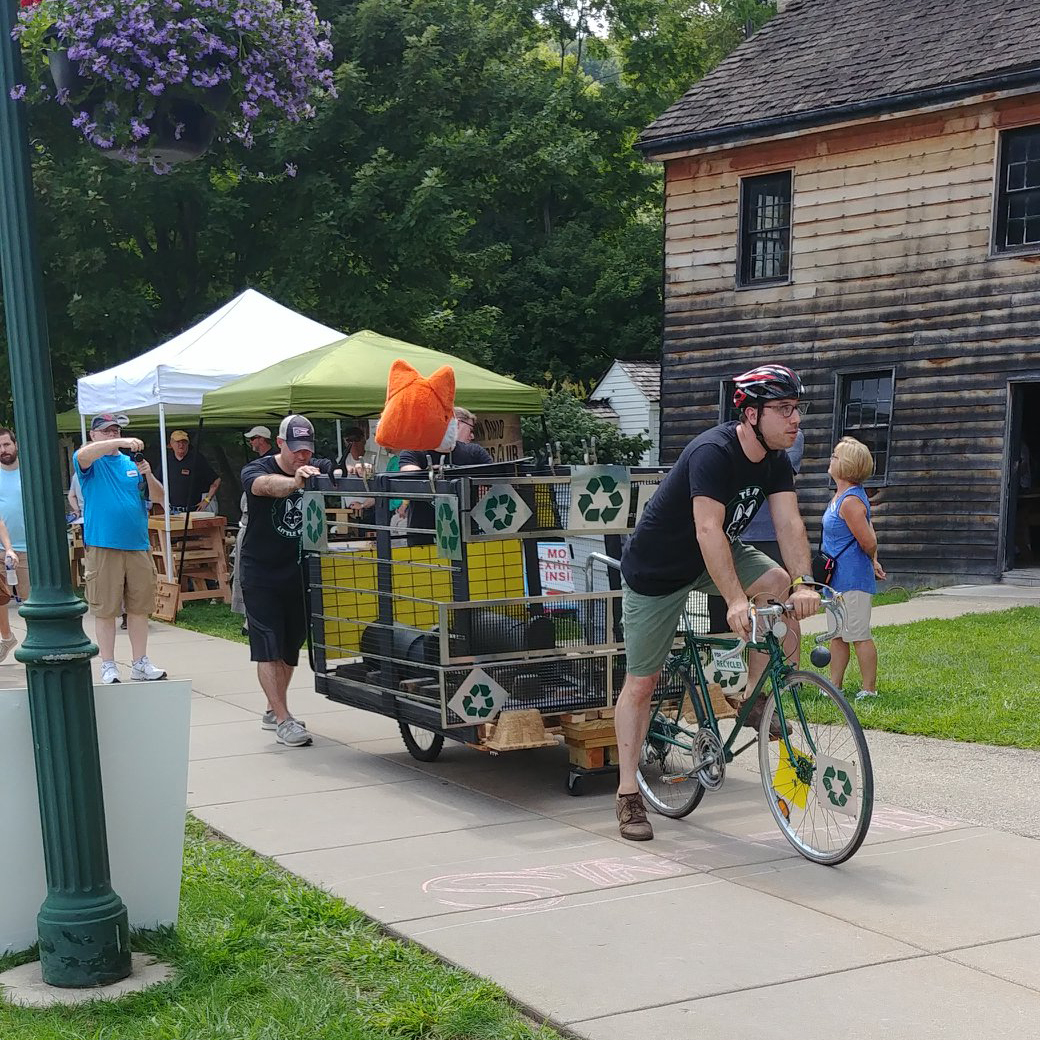 The engineering students from UD and their entry…