Cooper joined a local Cub Scout pack this year; pack 618. In the past, he would have been too young, but they started a "Lion" den just for preschoolers. This helps ease them into scouting. So far, it's been a lot of fun. The outings and meetings have been great, and participating with older kids at pack meetings has been good for him. Of course, the main motivation for any red-blooded dad to be involved in scouting is the pinewood derby!
The actual build was a bit abbreviated, but the research as to what makes a fast car began months ago. We researched shapes, where the weight should go, what's legal and not, and how the top guys do it. A lot of the "specialty" tools used in building a dialed car weren't available to us. On the other hand, we did have a few tools that others may not!
After pouring over all the pinewood derby pictures we could find, we decided on a sleek, low profile body. This would make it semi-aerodynamic, and lighten the car considerably. The cool factor would come with a layer of carbon kevlar on top that would slide under a slot in the nose of the car and be held on by magnets.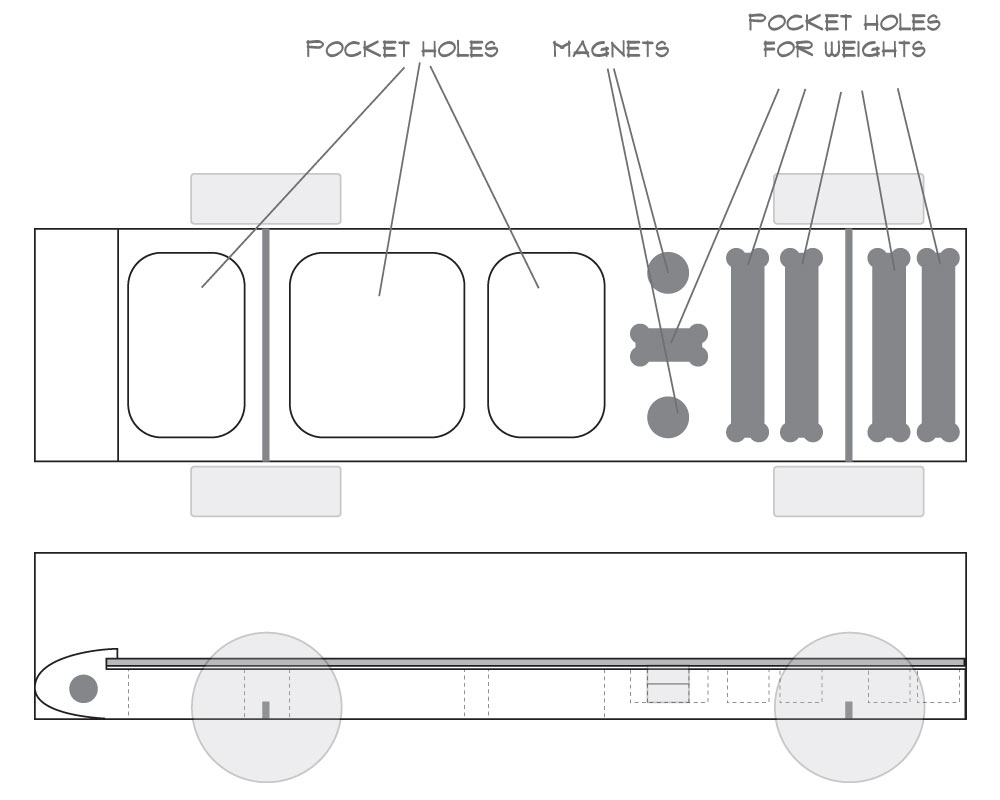 Taking it to the band saw, we roughed everything out. In an attempt to lighten the body as much as possible, and make compartments for .25″ x .25″ tungsten cubes, the CNC router was used to pocket the extra material out from the body.
To be on the safe side, and provide some flexibility in the positioning of the tungsten, enough room for 22 cubes was made fore and aft of the rear axle. That would be 3.764oz worth of weight in addition to the wheels, axles body and carbon plate.
To start, the block weighed 3.4oz. After milling, the weight was reduced to .6oz.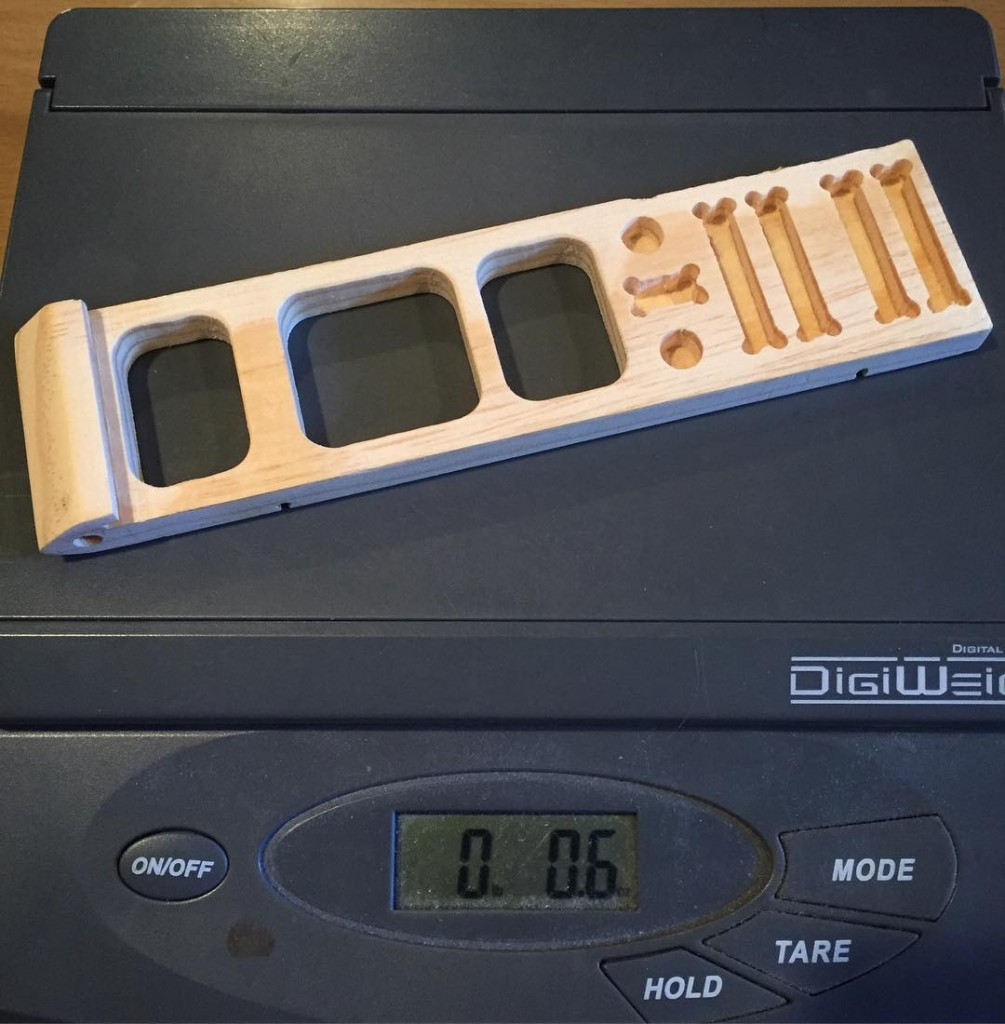 While I ran the CNC, Cooper got busy polishing the axles in the drill press with various grits of sandpaper. We then polished them with semichrome polish.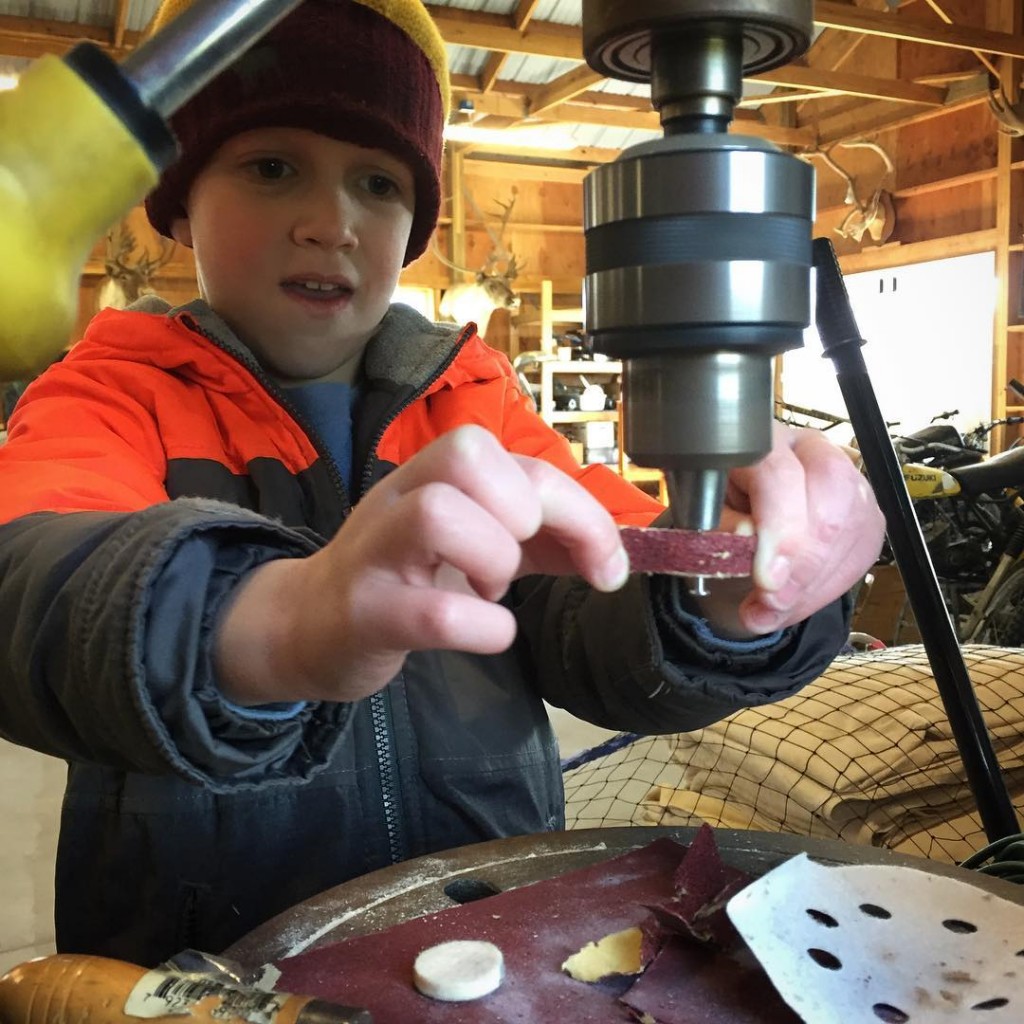 Next, we painted the body and cut some Cooper-designed graphics on the vinyl cutter. After applying them to the carbon kevlar sheet, we got busy adding the magnets and tungsten cubes to get as close to 5oz as possible – the heaviest allowed by BSA rules.
On our home scale, it toggled between 4.8 and 5.0 oz – it rounded to the nearest .2 oz. We figured we could always drop another cube of tungsten in if needed at registration. We never would have guessed it would weight EXACTLY 5.0 oz at registration!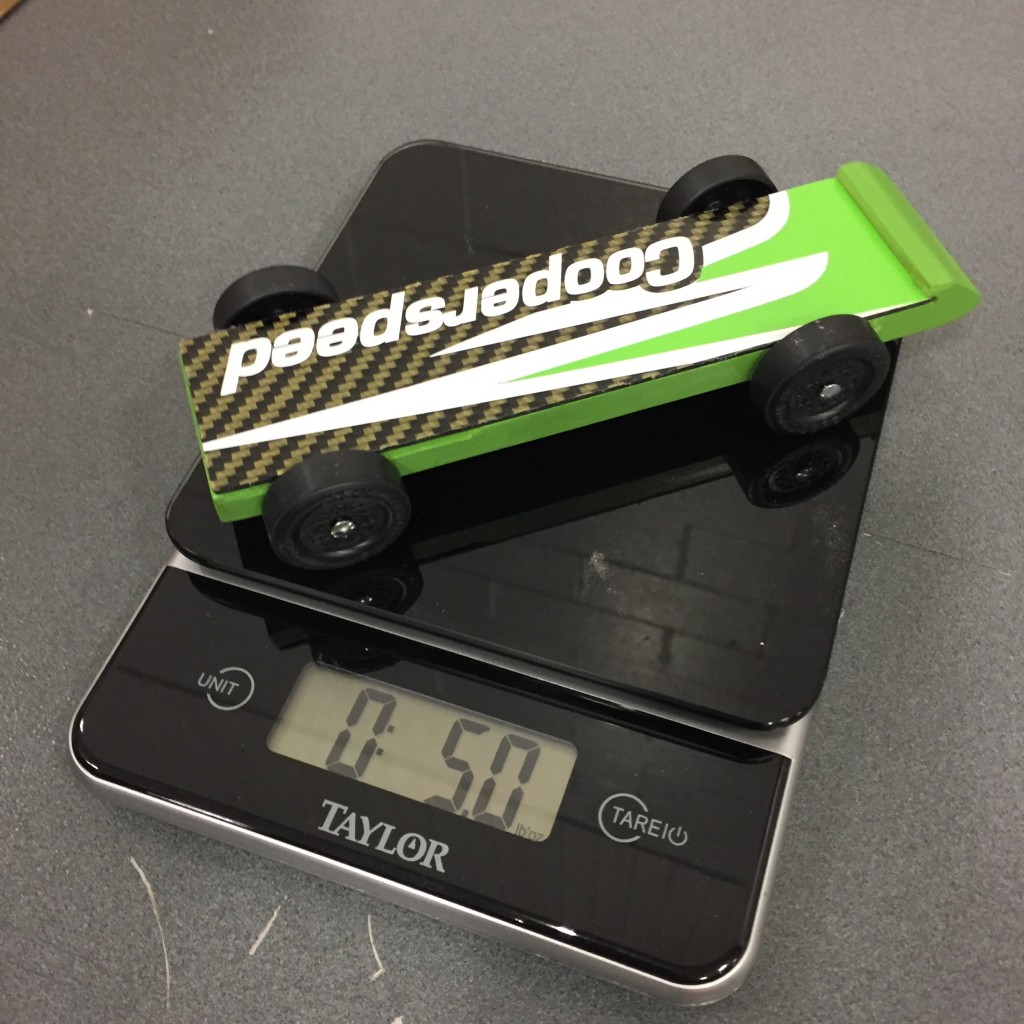 I'd like to take a step back for a second to talk about one of the most fun aspects of the build for me. In the weeks leading up to the city-wide race, you work on the car as much as needed, but it's really all theory. Unfortunately, you can't go down to the local pinewood derby track to test and tune…so we decided to build a track in the garage.
Our pinewood derby track on a budget (PWDTOAB) required the purchase of one sheet of 1/4″ hardboard from Menards, and a Pinewood Derby Timer shield from MiscJunk. Everything else was built from scraps in the barn, and my goody boxes of electronics. We followed the How To Build A Cheap Pinewood Derby Track build from Wayne's This and That, which came out very well. Overall, Cooper and I spent about $70 to make our track over the course of a week, which would enable us to test changes we make to the car.
Here is a quick vid of the track:
The day of the race found us up against over 50 cars, where we all would run four times; once per lane. We learned a lot that day. The track our pack uses is rough, old, dirty, wooden, and has no center rail. While Cooper's car would race, we took video to be able to see exactly what was happening. The result was that our car bounced around quite a bit, robbing speed with every hit. It reacted quite differently than our test track at home. At the end of the day, Cooper ended up second in his den and 14th overall. His second place was enough to get him a "golden ticket" to the city-wide race to race with all the other den champions!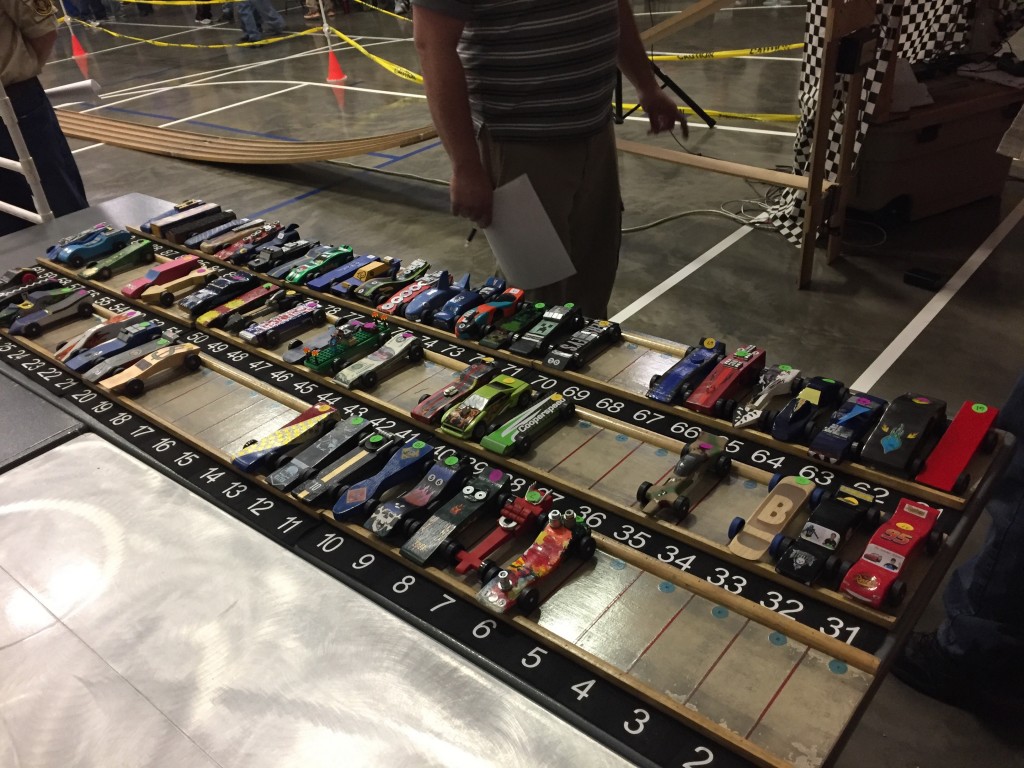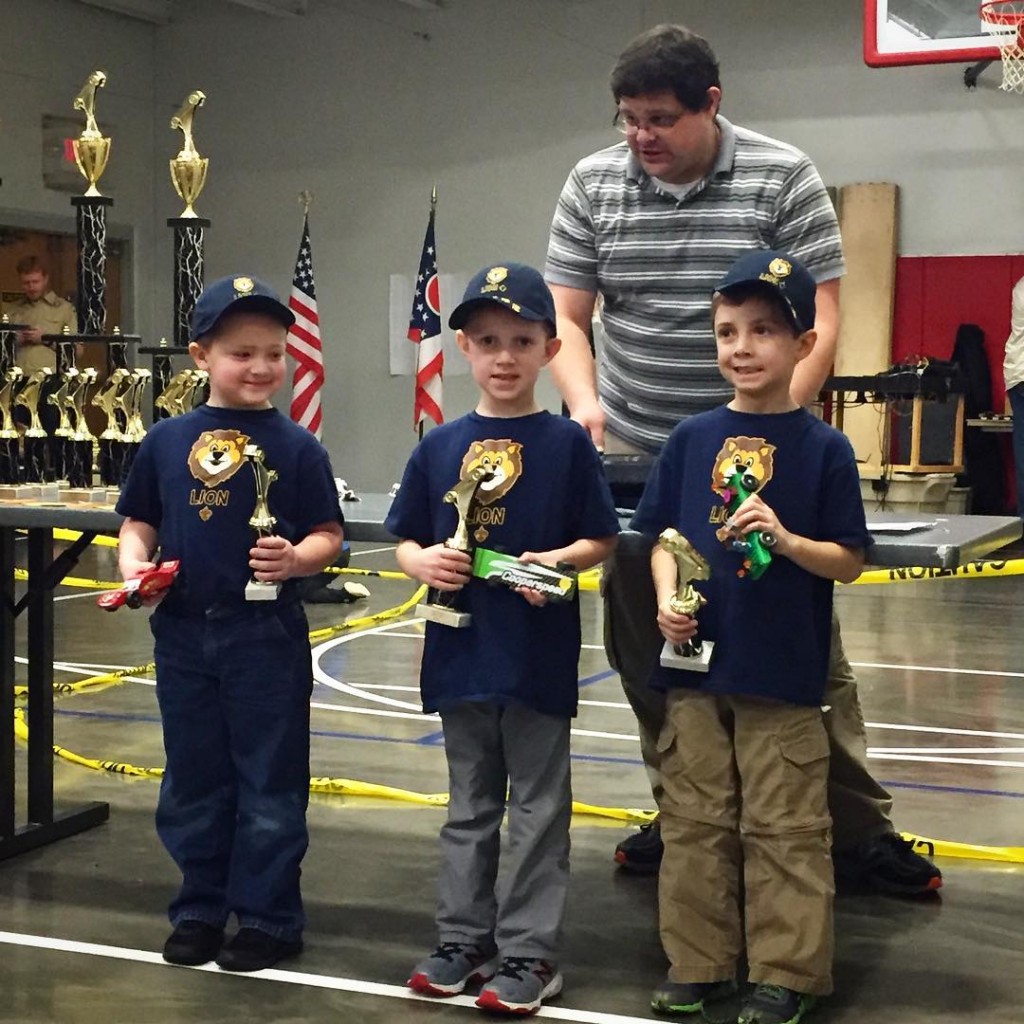 At the city-wide race, Cooper had to race in the "Champions" class. This was an open class that put our car up against every other top racer in the city! With a little experience on the track, we made some adjustments before this event. After one run, the Cooperspeed car sat in 5th overall! Unfortunately, a bad second run pushed it down to 16th overall. We fought back to 10th after run three, and then to 7th after the fourth run to finish 7th overall, 6th in the Champions class.
By some odd math, they gave the top three finishers trophies for "overall" first, second and third. That disqualified them for getting trophies in the "Champions" class, so fourth, fifth and sixth got first, second and third place trophies – Cooper being sixth overall, and getting third place in the Champions class. Hey, we'll take it!